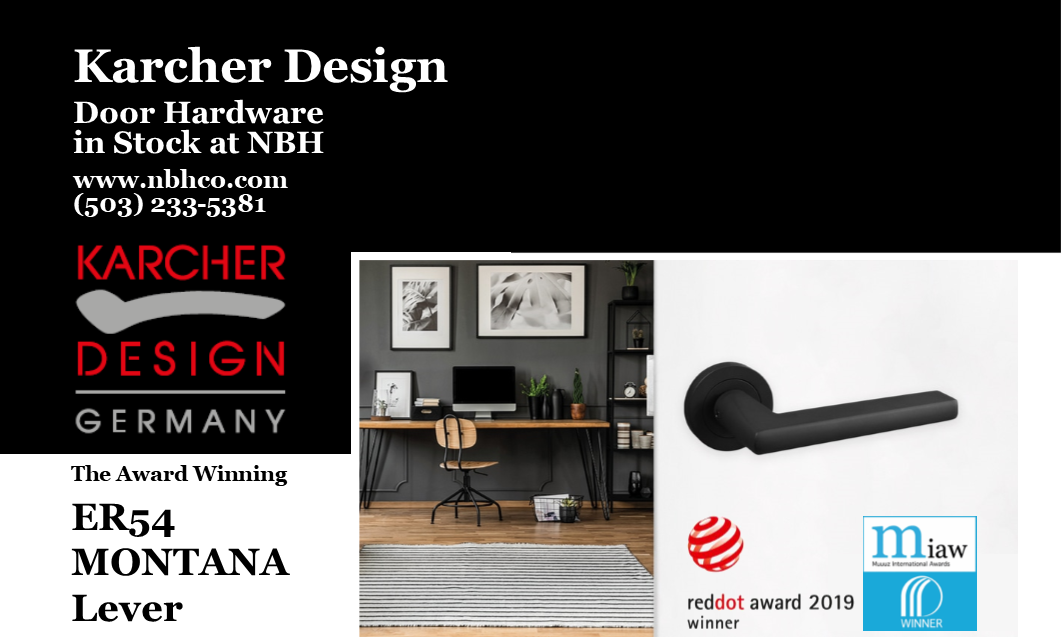 The Award Winning Montana Lever: Now in Stock at NBH
The Montana lever by Karcher Design is a modern and elegant stainless steel lever that beautifully suits a variety of settings. We are excited to offer this option to you as a stocked item: the quality, durability, quick installation, and sleek modern look make this an impressive lever that will seamlessly fit many projects.
Each Montana lever comes with sophisticated features that make it an outstanding choice for design and value.
Now in-stock at NBH in passage, privacy, and dummy sets.
In stock at NBH in satin stainless steel or Cosmos Black finishes, and each with a choice of round or square roses. (The black finish won the 2019 Reddot Award for product design.)
28 degree latch for ease of opening
Concealed fasteners
German-made with high-quality stainless steel
Easy and efficient installation
Winner of the French MUUUZ International MIAW award for interior design.
Coordinating single-cylinder deadbolt are also in stock to complete your look.
The handle of the Montana lever is very flat and elongated, and forms a rectangular shape. The edges of the rectangle are slightly rounded, promising not only design but also comfort for the user. The simple geometric shapes make it an elegant and timeless style choice.
As with the other three-part handle models from Karcher Design, the Montana UER54 features the three-part rose technology, which provides easy installation as well as stability.
Stay tuned for a Karcher door hardware lunch and learn at NBH! We've arranged an interactive class so that you can feel the quality, test the 28 degree latch, and see how much time this design can save you in installation.